AK-20 Axxion Cartridge Kit
Call for specific pricing for your Bike
Traxxion Dynamics is proud to introduce the next revolution in motorcycle suspension! The AK-20 Axxion Cartridge Kit. The AK-20 Axxion Cartridge Kit is a complete bolt-in upgrade that replaces the stock ill-performing springs and cartridges with a pair of extremely high-tolerance CNC-machined cartridges, and top quality springs to your needs, weight, and intended use. Our 20mm cartridge tubes are bored and honed to .0005. The 12.5mm cartridge rods are centerless ground to .0005. No other suspension unit is held to these exacting standards. Our unique bearing design helps seal the cartridge to improve low speed damping and increase damping response time, and virtually eliminates stiction. The components are then hard-coat anodized to prevent oxidation and wear contamination of the fork fluid. All of this leads to a cartridge that performs beyond any customers expectation. As an added bonus, the kit is completely modular in construction, and can be retrofitted to future bikes you may buy.
Included in the kit is one set of AK-20 Axxion Cartridges, one set of our proprietary Omni Springs matched to the riders weight and riding preferences, one quart of racing quality fork fluid, and step by step instructions on installing the kit.
Please note, you should be very comfortable working on motorcycle forks before attempting an AK-20 installation. If you are not familiar with motorcycle forks please have a professional suspension technician perform the install. This is not something you want to "learn on."
A few special tools are needed to install the kit and we have prepared an inexpensive Tool Kit that has everything you need to install your AK-20 Axxion Cartridge Kit and service your forks when needed. If you are not comfortable installing the kit yourself, just send your forks in and we will install it for. Our common turn around is less than one business week, so you wont be off the road for long!
Some bikes do not come with external preload, and rebound damping adjustment. We have made a special kit for those models, with a beautiful set of replacement fork caps with these features added in. The caps are an additional cost to the AK-20 total cost. Some popular bikes that get this added feature are: Suzuki SV650 (all year models), Honda VFRs (optional), and Triumph Thruxton. We can also custom make these parts for other models of bikes upon request.
Harley-Davidson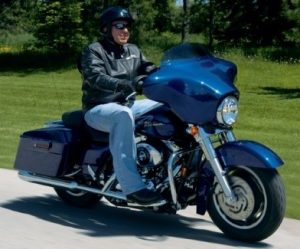 Put some American GUTS into those wimpy Japanese forks on your Harley! (No, they aren't made in America…) You don't weigh 120 pounds, and that front suspension on your bike can't hold you up! If you are tired of the bouncing, wallowing, bottoming, chattering, wobbling of your stock forks, then TRAXXION DYNAMICS has the CURE!
See what our customers have to say!!!
"What's wrong with my stock forks?" you ask…Your stock Showa forks have a "damper rod" in them to control the movement of the wheel. This style of fork is used for cheap production parts. Trying to compare a damper rod fork to a cartridge fork is like trying to compare a carburetor to fuel injection. There simply is no comparison. The damper rod fork is the cheapest, poorest performing system of damping, and has been around on Harleys for so long nobody seems to be able to remember.
The next problem is your stock fork springs. The stock springs are so weak and wimpy that they can't even hold the bike up; never mind that they are completely unable to hold you up when you get on it, or you take a passenger along. Just pick your bike up off the side stand sometime and watch it collapse before you even get on!
The result is a fork that bottoms over large bumps, wallows in high speed turns, dives dramatically when you pull the brake, cups and tears up your tires, and leaves you generally feeling uncomfortable and lacking confidence in the feel of your bike.
The "cartridge fork" came along about 20 years ago in sport bikes, and since has been highly refined. The kit you see in these photos is absolutely STATE OF THE ART. It was introduced in February of 2005. It is EXTERNALLY ADJUSTABLE to suit your personal preferences. It comes with springs matched to your weight and your intended use. And best of all it WORKS!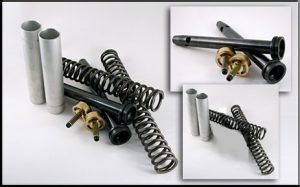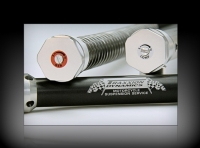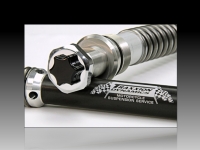 The AK-20 Axxion Cartridge Kit DRAMATICALLY transforms ill handling Harleys with Showa forks (basically any bike since about 1988). Immediately you will feel a smooth, controlled ride. The bike will not dive under aggressive or panic braking. You will have a confident feel even in high speed sweeping turns. Your tire wear will improve dramatically. Your pegs and floorboards will stop dragging the ground in turns. You will have great control and stability at low speeds, such as moving through a parking lot. Even your passenger will notice the difference! Overall, you won't recognize your own bike!!!
This kit is Made In The USA with pride in Woodstock, Georgia by skilled machinists and craftsmen. You cannot buy a better working set of forks anywhere, at any price. We guarantee it. Most AK-20 Kits for Harley-Davidson Motorcycles are $999.95. Some models like the Street Rod and XR1200 are slightly more ($1099.95) do to the fork caps required.
If you are looking for a little more budget conscious solutions we do offer a Damper Rod Upgrade. This is by no means close to the results you will achieve with the AK-20 Axxion Cartridge Kit but it will make your bike safer and more enjoyable to ride.
Damper Rod Upgrade
The Damper Rod upgrade option involves us taking your OEM damper rod and modifying it to work with an Emulator. There is some minor machine work and drilling involved to make the damper rod perform optimumally. This upgrade will vastly improve the bump absorbing characteristics of your forks. Additionally, we add new springs that are more suited for the weights you will be carrying on your bike. We get the rider's weight, passenger's weight, typical luggage carried, trailer use (if applicable), and how you typically ride the bike so we can build a custom suspension for you and your bike.