Top end performance products for Suzuki Hyabusa, GSXR1000, Yamaha R1, Kawasaki ZX12R and others. Products include clutch kits, lowering links and exhaust products.
There is detailed information on the Brock/Hindle exhaust below. For information on any other Brock' Performance Products contact us.
A-GENERATION 3 STREETSMART EXHAUST
The front section (from the engine to the Muffler) is constructed of an aerospace quality ultra-light stainless steel. The standard StreetSmart package comes with a 20 inch long Titanium Oval Race Muffler. The total system weight is just over 8lbs.
Brocks Performance Products announces their GENERATION 3 StreetSmart Exhaust package for the Suzuki GSX1300R Hayabusa.
Not just an off-the-shelf pipe, these systems are complete performance upgrade packages specifically designed for "serious stock" and Large CC or heavily modified Busa. Included are specially-designed lightweight stainless steel headers and 20′ oval Titanium canister (Carbon Fibre Option -shown-is also available), complete instructions detailing horsepower-freeing air box modifications which retain the stock air filter for maximum engine longevity, pipe installation instructions and a floppy disk containing maps for use in conjunction with the Dynojet Power Commander PC-II or PC-IIIr for the 2002 Hayabusa's (Powercomander, not included).
The StreetSmart system is a joint effort between Brock Davidson Enterprises and Hindle Manufacturing of Canada. This partnership combines Hindle's renowned handcrafted quality with Davidson's 20 of years sportbike drag racing experience. Davidson personally designed and hand-tuned the system specifically for the Hayabusa street bike owner who frequents the drag strip or is particularly interested in arm-straightening acceleration from a dead stop or slow roll and wants to make sure they have the fastest bike out there.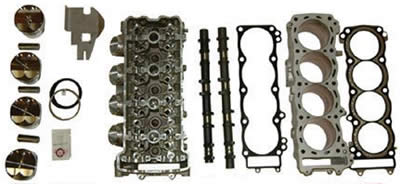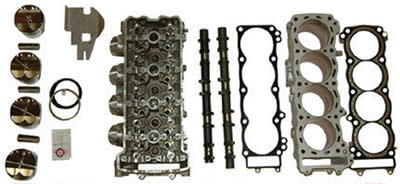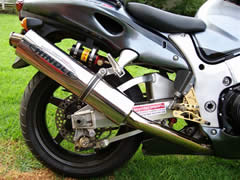 Includes:
Detailed exhaust system installation instructions
Suggested air box modification instructions
Dynojet Power Commander TRACK maps(These allow the bike to accelerate harder in the real word!) for your specific application
Dyno maps are available upon request…if impressing your buddies is important to you.
BDE Technical Assistance & Custom baseline maps for modified engine applications
(Private) StreetSmart Owners Section:…it is FREE with Your StreetSmart purchase. This area in the Brock's Performance Information Forum: http://www.brockracing.com/forum exists for a single reason…. To help YOU make your bike (and yourself!) as fast as possible.
If we learn a new trick or technique (which technology allows us to do frequently)…it doesn't do us any good to keep it to ourselves. We want you to be FASTER than anyone you race who does not have a StreetSmart System. We also don't want you to follow a path to poor performance by following the advice of others who might not know as much as us… Sales pitches… know it all friends… internet yammering…what ever! If something works, we tell you. If it doesn't work… we tell you that also. It is not about money for us.
We know what we sell works a good as Brock personally knows how to make it work! We also know that one poor product or idea added to our known good combination can make OUR products look bad!
Contact us for more information on Brock's Performance Products.