Braketech Advanced Braking Systems
BrakeTech USA is very pleased to announce the release of the long awaited, ultra-advanced technology Ceramic Matrix Composite brake rotors for the Motorcycle Industry. The AXIS/StarBlade™ is the new and updated MKII version incorporating now de-classified Stealth Bomber Aircraft technology manufactured by Starfire Systems, this revolutionary material will change the way both top-level race teams and enthusiasts alike view their braking systems. The performance parameters in-total make all previous materials and systems dated by comparison, including the vaunted Carbon/carbon brakes. Designed to perform brilliantly with OE calipers as well as the Billet GP race-spec versions. This all-new composite material offers the best features of premium iron rotors with the incredible lightweight of carbon, and none of the Carbon/carbon foibles!
PRODUCT FEATURES:
Patented AXIS Design – featuring Direct-Link™ load transfer system
Not thermally sensitive (will work great on the street)
Ultra broad torque curve across a very wide thermal range
Much longer lasting than C/c
Much less expensive than C/c
Great wet weather performance – unlike C/c
Terrific feel and feedback at the lever
Strong braking performance? We mean, Really strong: +.6 mu average friction with special Ferodo Racing brake pads
Carriers are premium grade billet aluminum bar – not stamped plate aluminum
Hard-anodized to military grade specifications
Brake Weight Comparison (Honda CBR-1000RR, '04-05)
Honda OE 310mm Stainless: 3lbs 4.4oz @ 5mm thick [1486grams]
BrakeTech 310mm AXIS/Iron: 2lbs 15.0oz @ 5mm thick [1332grams]
BrakeTech 310mm AXIS/Starblade™ CMC: 1lb 5.6oz @ 5mm thick [612grams]Brake Weight Stats for 6mm thick Narrow-Band Superbike
BrakeTech SBK 320mm AXIS/Starblade™ CMC: 1lb 8.7oz @ 6.0mm thick [700grams]
Brembo SBK 320mm Steel: 3lbs 11.4oz @ 6.0mm thick [1684grams]
PRODUCT FITMENT
Our parts fit a very wide variety of bikes! To find out if this part fits your bike, please Email us or call us and we will get back to you ASAP!
AXIS Design
Extreme Performance Rotors The all-new AXIS Design extreme performance rotors are here! Representing nearly two years of development in high technology braking systems. Although weight is virtually identical to our existing SuperLite full-floaters, the new design bristles with many new and innovative features making the all new patent pending AXIS Design substantially stronger and with much improved thermal transfer capabilities.
To start with, the AXIS Design features a unique Direct-LinkTM load transfer system making the floater buttons non-load bearing; they control float only. One of the primary targeted goals of the new design was to exponentially increase the thrust face surface area between the outer blade and inner carrier for greater load transfer capacity. The new AXIS architecture is the basis for many substantial improvements over conventional floating button designs, accomplishing two very important functions:
1. Greatly increased surface area for load transfer (over 500% compared to old-world rotors) spreads the transfer forces over a much greater area decreasing wear and increasing the useful life exponentially. This design effectively eliminates the excessive fore and aft wear consistent with traditional floating button assemblies that suffer from unavoidable localized material wear and deformation.
2. By dramatically increasing the surface area for load transfer, we also dramatically increase the thermal transfer capability to the carrier. Improved heat dissipation through significantly greater conduction boosts inherent resistance to thermal stress induced distortion.
The new AXIS carriers also feature design elements that improves assembly strength by straightening the load path from curvature to linear. Material here too is very special; we spec only U.S. made Alcoa or Kaiser aircraft grade aluminum, cut and CNC machined from bar, not stamped from plate. The billet cut U.S. spec ductile iron blade too sports an all-new hole pattern which maximizes cooling as well as high strength. Weight minimums are prudently kept in-step with the demands of top level racing with an optimal material mass for requisite thermal load capabilities. Regardless of rotor shape, the basic physics of braking is the conversion of kinetic energy into thermal energy, adequate material mass for this process is critical.
The initial offering for the AXIS Design is in our high tensile strength, continuous-cast billet cut Ductile iron. Also brand new is the introduction of our very high quality, premium laser cut Stainless Steel option.
Lastly, and a first for the Motorcycle Industry, the all new AXIS Design full-floating rotors feature the highly desirable addition of CRYOGENIC treatment for maximum performance and thermal stability.
At BrakeTech USA, Quality isn't expensive, it's priceless!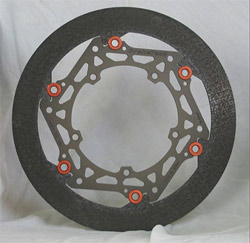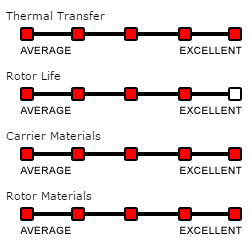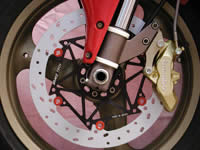 DUCTILE VS. GRAY IRON:
The following specifications show our high grade Ductile iron from computer controlled continuous cast bar versus the best of Gray iron (also from bar). Be advised however, individual mold castings are substantially lower by as much as 50%):
Tensile strength:
Ductile Iron = 80,000 psi vs Gray iron at 40,000 psi
Fatigue strength:
Ductile Iron = 40,000 psi vs Gray iron at 20,000 psi
Fatigue strength is primarily influenced by the graphite size and shape and will also be affected by the matrix structure. The continuous casting process and strict metallurgical controls of our Ductile iron results in a uniformly dense, fine-grained microstructure essentially free of porosity, sand and other inclusions, that can affect the endurance ratio severely lowering fatigue life. The BrakeTech Ductile iron specification from billet has optimal strength in tension, compression and fatigue versus traditional castings (including individual mold Ductile iron castings). Ductile irons having nodular graphite will have the highest endurance ratio, and gray irons with coarse flake graphite will have the lowest.
Email us or call about Braketech Advanced Braking systems.